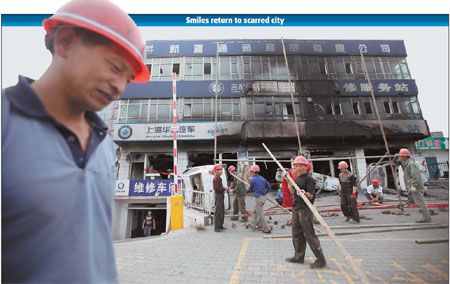 Workers start reburnishments to a destroyed car dealer in Urumqi on Monday. More roads reopened and shops unlocked their doors in the regional capital after the riot on July 5. AP
July 4 was like any other Saturday for Guli Hazret. She was in a bar drinking and chatting with friends, both Uygur and Han. She knew her shift at the hospital the next day did not start until 7 pm. "Plenty of time for a hangover," she thought.
At that moment, she did not have a care in the world. Fast forward 24 hours and the mellow bar music was replaced by the angry screams of Uygur men as they attempted to smash down the gates of the People's Hospital in Urumqi, the capital of the Xinjiang Uygur autonomous region.
"I thought it was a gang fight at first," said Guli, 30, a trained doctor who has lived in the city for six years. "It wasn't much later that I found out how serious things were.
"That afternoon I had been shopping. It was strangely quiet on the streets and I wore a mini-skirt and wandered around Shanxi alley (a Uygur part of the city). I've been thinking that if I had got to work late that day, I would've been beaten too, or even killed. Work saved me."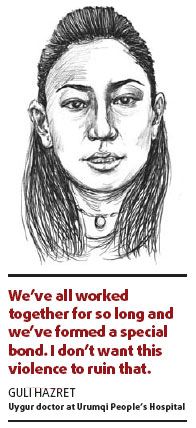 On the street she had strolled along only hours earlier, women similar to her had been savagely beaten by the rampaging mobs of "20-something Uygur boys, who clearly had no decent jobs", Guli said.
"I used to think, 'What could they possibly do to Uygur girls?' Many girls today wear fashionable clothes like me, like mini-skirts," she explained, adding the worst she had experienced was crude comments about her dress sense from "fundamentalist boys".
"They are in the minority usually, but the rioters beat every Uygur woman who wore fashionable or fancy clothing."
It was the darkest day in the history of the Xinjiang region, when Uygur rioters, funded and sparked by forces overseas, brutally slaughtered mostly Han civilians in Urumqi. At least 184 people, 137 of them Han, were killed.
The government's most recent update showed that the final death toll could eventually reach as many as 300.
Foreign media reported that the tragedy was ethnically fueled and has left a deep scar, as the city struggles to recover amid government calls for ethnic unity.
For Guli, the youngest of five children born in the remote prefecture of Hotan, and the only one who lives in Urumqi, the event offered a double blow: she has not only been forced to witness the transformation of verbal abuse into real and shocking Uygur-on-Uygur violence, but she now has fears for her working environment, as almost half of her colleagues are Han.
"The riot was beyond my worst nightmare. I may not have time for namaz (Muslim prayer) and I may be acting against fundamentalist (Muslim) customs by wearing this," she said, pointing at her one-piece dress, "but I do have beliefs in my heart."
City officials have never openly acknowledged or addressed Uygur-on-Uygur violence as an issue, but Uygur sources said it has existed in Urumqi for a long time.
"No one talks about it," a female Uygur graduate student, who refused to reveal her name for fear of retaliation, told China Daily. "People always put other things higher up on the agenda."
Guli, concerned about the relationship with her peers, explained: "We don't talk about the riot at work. We try to focus on other things. It makes us all feel uncomfortable.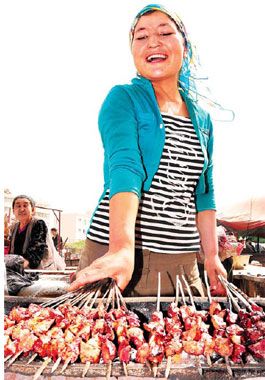 Thorson Saute barbecues on her stall at Thokson Bazaar, the largest of its kind in the city of Aksu in the Xinjiang Uygur autonomous region. Xinhua
"I hope this thing can pass naturally and not affect our office environment. We've all worked together for so long and we've formed a special bond. I just don't want this violence to ruin that."
The dedicated doctor has come a long way in her career. Literally. Her hometown is 1,700 km from the regional capital. About 96 percent of the two million residents in Hotan are Uygurs, while the Han population is mostly fluent in the local dialect.
Guli went to all-Uygur schools as she grew up and, even at college in Urumqi, she enrolled in a class that included 180 Uygur students but no Han.
Today she said she believes integration between all the capital's ethnic groups is "inevitable".
"I know quite a number of Han and Uygurs who are in love or are married. If no major incident breaks out, and with a stable environment, assimilation will happen because it is what life here needs," she said.
But in the wake of the latest catastrophe, much remains to be done to rebuild the trust between the ethnic groups.
"Taking things too seriously or arbitrarily creating a tense environment won't help either side. I think the next step is to rationally and tactfully resolve this issue and let nothing that hurts each other happen again. After all, we can't live without each other," she said.
One effective strategy in securing trust in the past, she went on, was the "don't ask, don't tell" technique.
"The ethnic groups never usually argue about anything, maybe that's because we don't talk about sensitive issues. Both sides are very cautious, everyone respects each other," she said. "The Han people around me are like that. We never say anything that hurts the other's ethnic dignity."
But she added: "Of course, assimilation is one thing, but you must never lose what makes you 'you'. There's got to be mutual respect."
A younger Guli felt differently. "I never used to think about these things and, as a kid, I would fight when I had to. But that's changed since college.
"Especially at work, where we meet everyday and spend most of our time. We each have our advantages and deficiencies as Uygur and Han, but we don't have to talk about them."
As security eases a week on from the disaster, like most local residents, Guli is still afraid to walk outside. Instead, she has been taking taxis to work and back. She said the armed police presence made her feel safer, but she does not know what will happen when they leave.
"I hope time can wear things off as soon as possible. Let it pass, all of this, let it pass quickly."
The names of all interviewees have been changed to ensure their safety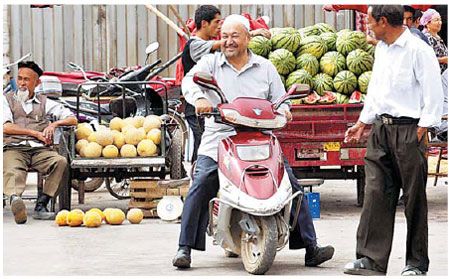 A Uygur farmer brings a truck-load of watermelons to sell at a bazaar in Kuche county, Xinjiang, last Friday. Xinhua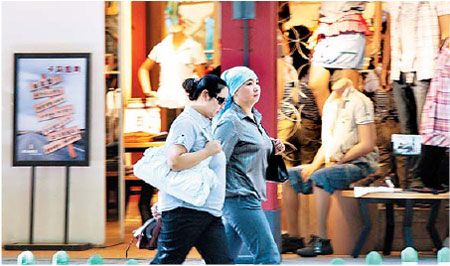 Women pass by a shop in Urumqi's Jianshenan Road, where business has returned to normal, on Saturday. Xu Jingxing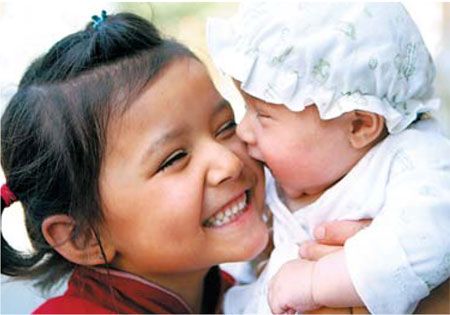 The two children of Uygur construction worker Mamtechiang Kadeer frolic in the street in Urumqi. Xu Jingxing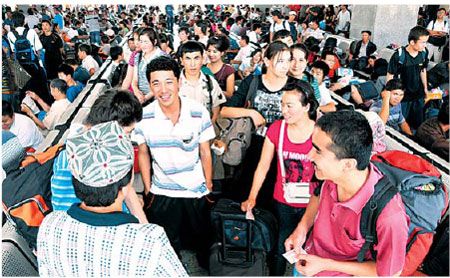 Passengers wait to board trains last Wednesday at Urumqi Railway Station, in the capital of the Xinjing Uygur autonomous region. Xinhua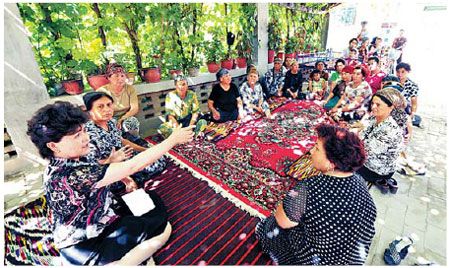 Guli Gyahan (first left), deputy director of the People's Congress for Huocheng county in Xinjiang, visits farmers in Langam township to brief them on the July 5 riot. Xinhua
(中国日报)
[责任编辑:vingietang]